Bring Passion to Your Classroom
Thrively uncovers your students' strengths and
interests so they can discover their passion in life.
With Thrively, you can...
Discover your student's unique strengths
The Thrively Strength Assessment identifies each student's individual strengths across 23 factors. Teachers, students and parents receive a personal, uplifting profile that celebrates each child's unique talents.
Discover Strengths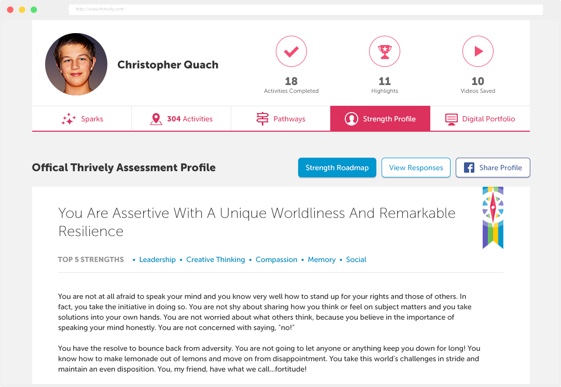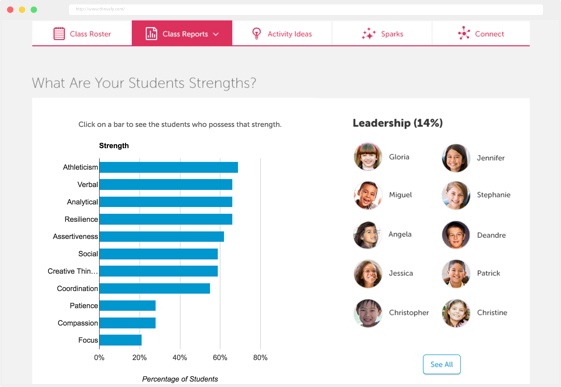 See your students in a completely different way
Instead of grades and test scores, Thrively enables teachers and administrators to see their students through the lens of each student's strengths. See schoolwide and classroom reports that group kids by their strengths and engage them instructionally from a new perspective.
See The Whole Child
Expose student interests and pathways
Thrively recommends personalized content, career pathways, and enrichment activities to each student based on his/her unique strengths and interests.
Explore Interests and Pathways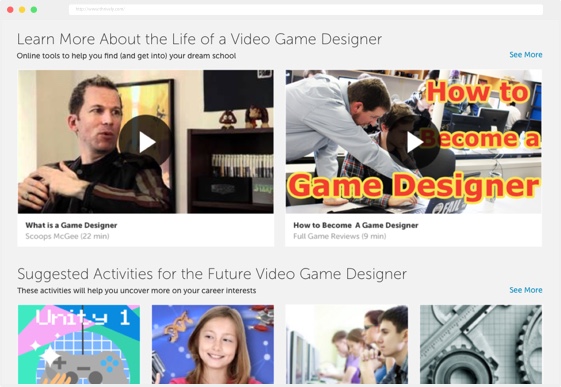 Students Love Thrively
Research shows students are 30 times more likely to be engaged when educators know their students' strengths.
What teachers and administrators are saying about Thrively
Find the strengths of all Ss. We are going to use @thrively to do this the 1st min of 1st day. #satchatwc

Beth Houf

Principal, McIntire Elementary,

Fulton, Missouri

@thrively is game changing you will LOVE IT!!

Angela Maiers

Award-winning educator, speaker,
consultant and professional trainer

Might be my favorite paragraph of all time- a S writes home about @thrively thank u @girishvenkata & @AngelaMaiers!!

Nili Bartley

4th Grade Teacher, Hopkins School, Hopkinton, Massachusetts

Check out thrively.com awesome tool to use with students. It is pandora radio but for students passions.

Michael Matera

World History Teacher, University School of Milwaukee, Milwaukee, Wisconsin

Currently checking out @thrively. Huge potential to impact student success.

Brad Currie

Educator. #Satchat Co-Founder. #EdcampNJ Organizer. Partner @EvolvingEd LLC.

@thrively thanks so much! Love the possibilities of this tool. Will definitely be in touch!

Christy Brennan

Elementary Librarian, Haverford Township School District, Bryn Mawr, Pennsylvania
Bring Thrively into your classroom today
Join the thousands of teachers who are using Thrively in their classroom today.
Join For Free Today