After the Bell
Continue learning
beyond the classroom
Empowering Students to Thrive
A lot of learning happens after the school day ends.
Thrively helps kids in grades K-12 discover the right activities
to stay engaged and continue learning after the bell.
Get help in areas that your child may find challenging by unearthing the educational apps that make learning a bit easier & more engaging.
---
Browse Educational Apps
Show your students what it takes to be successful in their dream careers through enriching activities and eye-opening videos.
---
Peek Into Pathways
Kids can take the Strength Assessment to get recommended activities that will build essential skills and develop their interests.
---
Try it Now
You can't put a measurement on
awesomeness
Show your kids how awesome they are!
Thrively is a chance to help students feel confident about who they are and excel in the areas that make them passionate.
Get Started Today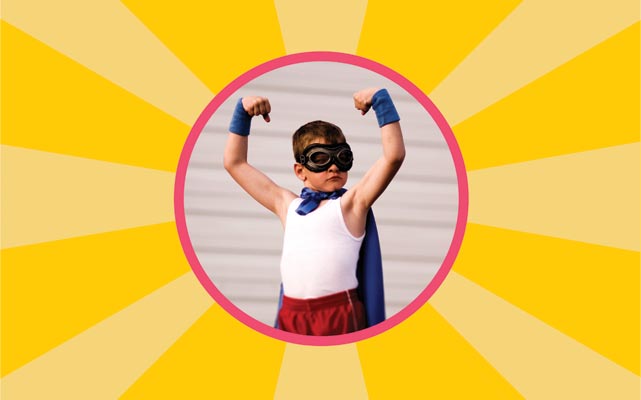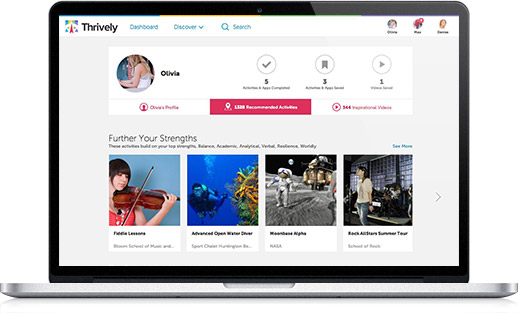 A Valuable Resource for Families
Let your child take control of the future.
With Thrively, the best educational apps, online courses, and valuable extracurricular opportunities are just a click away.
Discover the full breadth of your child's talents
Learning is not one-size fits all.
Gain insights into your child's learning styles by understanding core strengths and unique interests.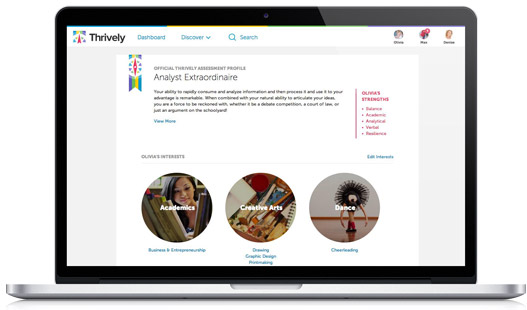 Get your family started with Thrively!
In this day and age where kids are expected to make sports and activity choices at a young age that will then be their ONLY sport or activity, I adore Thrively. It could help guide kids to something that they will not only be good at, but love.


-Holly Homer, Kids Activities Blog
Sign Up Today